Looking for a way to enhance the style, privacy, and safety of your car? Adding window tint is a simple way to elevate your car's appearance, protect your interior from the sun, provide safety from UV rays, and reduce the sun's glare as you're driving.
If you're thinking about gett
ing car tint for your vehicle, keep in mind that window tinting laws in the U.S. vary by state. Understanding the regulations in your area will help you avoid penalties such as fees, or even imprisonment, for breaking the law. Let's take a look at everything you need to know about window tint laws in 2023:
What is Window Tinting?
Window tint is a thin film applied to a car's windows designed to block UV rays. It can be installed either on the outside or inside of car windows. Window tint is available in a variety of colors, materials, and shades, although permitted window tint types vary by state.
Common Types of Window Tint
When it comes to adding window tint to your car, there are several options to choose from:
Carbon window tint: Carbon window tint produces a sleek, matte finish, is good at insulating your car to reduce temperature fluctuations, and is one of the most expensive options.
Ceramic window tint: Ceramic window tint is the most expensive type of car tint, but it's also the highest quality and longest lasting, meaning you'll get the most for your money. Not only is ceramic window tint excellent at blocking harmful UV rays, but it's also good at protecting the interior of your car and is shatterproof.
Metallic window tint: Metallic window tint has a shiny or metallic look and is both shatterproof and scratch resistant.
Dyed window tint: If you're looking for a budget friendly option, dyed window tint is the least expensive window tint on the market. However, it is also the least effective at blocking UV rays and the least durable.
Hybrid window tint: Hybrid window tint is a combination of metallic and dyed window tint. It is long lasting, offers protection against interior fading, and is a good middle ground if you're hoping for a cost effective but good quality option.
Terms to Know
Before diving into the world of window tint laws, there are a few terms you should make sure you're familiar with, including:
Film VTL%: Film VTL%, also known as visible light transmission, measures how much light crosses the window tint film alone.
Net VTL%: Net VTL% measures how much light crosses both the film and the window glass.
AS-1 Line: The AS-1 line is a marking signified by the manufacturer to designate where the clearest form of glass begins.
How Do State Car Tint Laws Work?
Every state's window tint laws are different. What's legal in one state may not be legal in the next state over, so it's important to understand the rules and regulations that are part of your state's car tint laws. For example, while Michigan allows car owners to tint their windows to any percentage, other states, such as Vermont and New Hampshire, do not allow any car tints at all. State window tint laws may include regulations about the type of car tint allowed, as well as the degree of tinting.
It's important to note that most states do not have a uniform permitted VTL% that applies to your entire vehicle. In other words, the tinting allowed on your windshield is likely different from the tinting allowed on your side windows, so it's important to study your state's laws carefully.
Color Rules
State car tint laws also vary based on what colors of car tinting they allow. While states such as Arizona, Florida, and Montana have relaxed color regulations, other states, such as Michigan, New Jersey, and New Hampshire, are much stricter about what colors are allowed.
Exemptions
It's important to keep in mind that most states do allow for some exceptions when there is a medical need for window tint, such as for drivers with lupus, vision issues, or albinism. However, you'll need to apply for a permit from your DMV in order to avoid any fines or penalties.
Although most states do allow medical-related exceptions, three states (Utah, Hawaii, and Colorado), do not.
Window Tint Laws by State [Uptated 2023]
| | | | | |
| --- | --- | --- | --- | --- |
| State | Front Sides | Rear Sides | Rear Window | Windshield |
| Alabama | 32% | 32% | 32% | 6″ |
| Alaska | 70% | 40% | 30% | 5″ |
| Arizona | 33% | ANY | ANY | AS1 |
| Arkansas | 25% | 25% | 10% | 5″ |
| California | 70% | ANY | ANY | 4″ |
| Colorado | 27% | 27% | 27% | 4″ |
| Connecticut | 35% | 35% | ANY | AS1 |
| Delaware | 70% | ANY | ANY | AS1 |
| District of Columbia | 70% | 50% | 50% | 5″/AS1 |
| Florida | 28% | 15% | 15% | AS1 |
| Georgia | 32% | 32% | 32% | 6″ |
| Hawaii | 32% | 35% | 35% | 70% light |
| Idaho | 35% | 20% | 35% | AS1 |
| Illinois | 35% | 35% | 35% | 6″ |
| Indiana | 30% | 30% | 30% | AS1 |
| Iowa | 70% | ANY | ANY | AS1 |
| Kansas | 35% | 35% | 35% | AS1 |
| Kentucky | 35% | 18% | 18% | AS1 |
| Louisiana | 40% | 25% | 12% | AS1 |
| Maine | 35% | ANY | ANY | 4″ |
| Maryland | 35% | 35% | 35% | 5″ |
| Massachusetts | 35% | 35% | 35% | 6″ |
| Michigan | 4″ | ANY | ANY | 4″ |
| Minnesota | 50% | 50% | 50% | NONE |
| Mississippi | 28% | 28% | 28% | AS1 |
| Missouri | 35% | ANY | ANY | AS1 |
| | | | | |
| --- | --- | --- | --- | --- |
| State | Front Sides | Rear Sides | Rear Window | Windshield |
| Montana | 24% | 14% | 14% | AS1 |
| Nebraska | 35% | 20% | 20% | 5″/AS1 |
| Nevada | 35% | ANY | ANY | AS1 |
| New Hampshire | NONE | 35% | 35% | 6″ |
| New Jersey | NONE | ANY | ANY | NONE |
| New Mexico | 20% | 20% | 20% | 5″/AS1 |
| New York | 70% | 70% | ANY | 6″ |
| North Carolina | 35% | 35% | 35% | AS1 |
| North Dakota | 50% | ANY | ANY | <70% |
| Ohio | 50% | ANY | ANY | <70% |
| Oklahoma | 25% | 25% | 25% | 5″/AS1 |
| Oregon | 35% | 35% | 35% | 6″ |
| Pennsylvania | 70% | 70% | 70% | NONE |
| Rhode Island | 70% | 70% | 70% | AS1 |
| South Carolina | 27% | 27% | 27% | AS1 |
| South Dakota | 35% | 20% | 20% | AS1 |
| Tennessee | 35% | 35% | 35% | AS1 |
| Texas | 25% | 25% | ANY | 5″/AS1 |
| Utah | 43% | ANY | ANY | AS1 |
| Vermont | NONE | ANY | 32% | 32% |
| Virginia | 50% | 35% | 35% | AS1 |
| Washington | 24% | 24% | 24% | 6″ |
| West Virginia | 35% | 35% | 35% | 5″ |
| Wisconsin | 50% | 35% | 35% | AS1 |
| Wyoming | 28% | 28% | 28% | 5″/AS1 |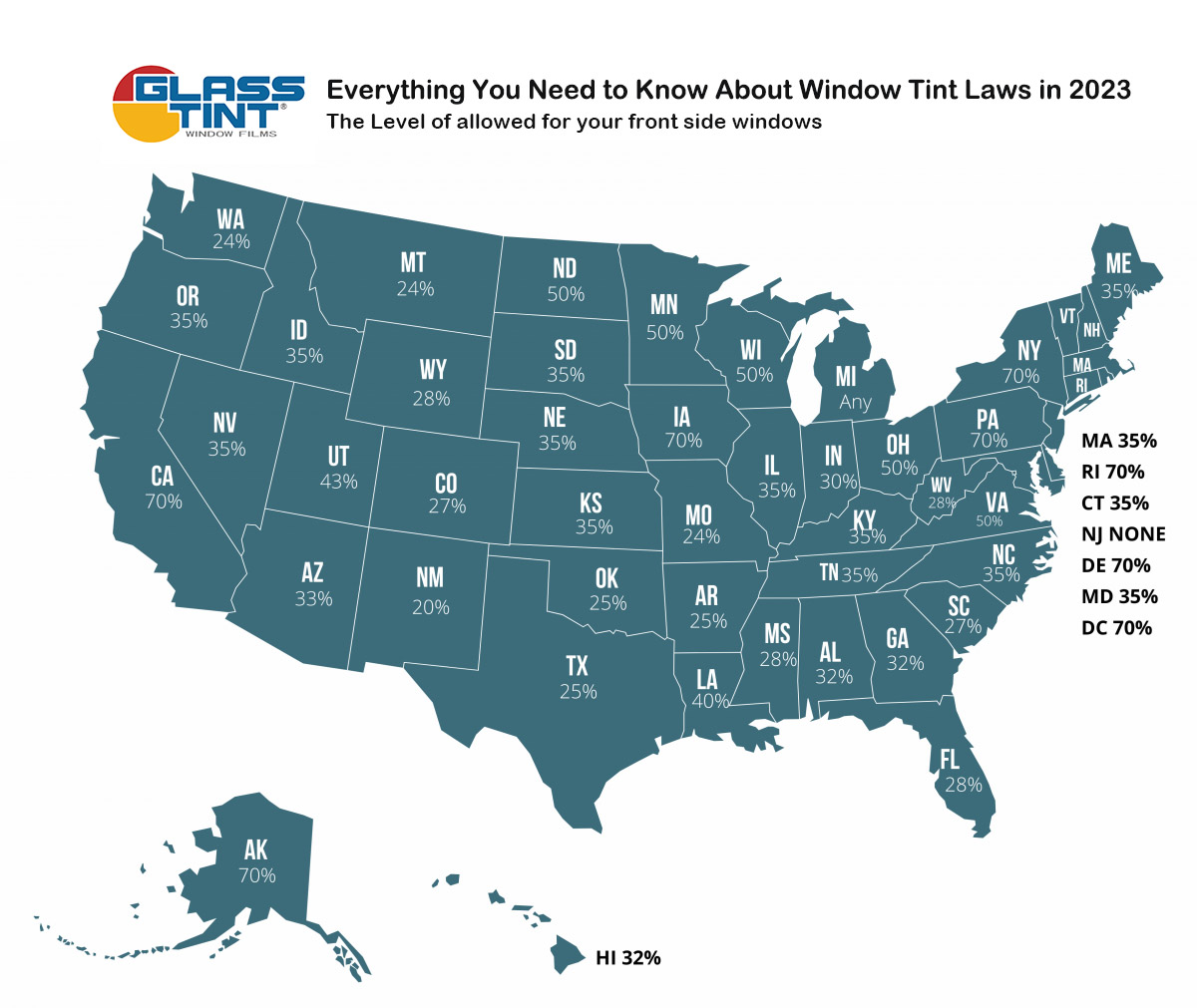 Final Thoughts
Tinting your car windows is a great way to add extra privacy, style, and safety to your car, but remember that the rules and regulations vary from state to state. Understanding your state's car tint laws is essential for avoiding unnecesarypenalties